Tips to make your Cyprus wedding planning a breeze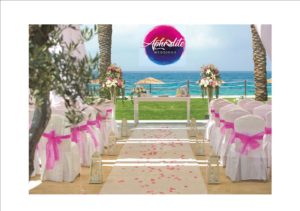 There's lots to think about when planning your Cyprus wedding. It might feel overwhelming to you, but this is where Aphrodite Weddings can help. In this blog series, I'm going to share my top tips with you to help your planning go more smoothly. For this first blog, here are some things to consider at the early planning stages.
Start planning your wedding early
Just got engaged? Wanting to get married next year? You might think you've got a few months before you need to think about your wedding, but venues, photographers and entertainers in Cyprus get booked up pretty quickly.
Did you know, the average engagement is between one and two years? That's usually because it takes a while to organise the wedding of your dreams!
So, start planning as soon as you can.
Write everything down
When you first start planning your wedding, it might seem like there's so much to do. Such a lot to think about and you might be wondering where best to start. My advice is to begin by writing everything down that you'd like to include in your wedding.
By writing your wish-list, you'll be able to see at a glance what there is to do and also, perhaps cross off some items that are unrealistic or conflicting. For example, an ice-sculpture might not work as a centre-piece at a beach wedding!
Then, once you have your definitive list, break everything down into small tasks, group and prioritise them. This will create you a simple plan, which will make the whole process more manageable and feel less overwhelming for you.
Don't try to please everyone
Remember, this is your wedding, so do the things you want to do.
As a couple, think about what means the most to you and what you both want for your wedding. This includes things like when and where you'll get married, the size of the wedding, the type of reception, the dress, the flowers, the entertainment and, of course, the cost.
Sometimes, well-meaning relatives can try to take over or make demands of you, especially if they are contributing to the overall cost. But you won't be able to please everyone, no matter how hard you try. While you may want to take family requests into account, stay true to what you and your fiancé(e) really want.
It's your day and your choices.
Avoid major external events
If there's a World Cup, an important election, the Olympics or another major sporting, political or cultural event happening when you want to get married, be sure to avoid key dates or you might find many of your guests' attention is elsewhere!
Unless you want to make the event a feature of your wedding – for example by having a big screen to allow guests to watch the big match at your reception – avoid getting married on these dates.
As well as UK holidays or events that might affect whether your guests turn up, remember that Cyprus has its own public holidays, which may not be the same as the UK. I can advise you on which dates to avoid for the year you want to get married. Or you can visit the Cyprus tourist board.
Don't sizzle your guests
While the sun usually shines from April to October in Cyprus, July and August are very hot months, with temperatures between 30-40°C. If you don't want your guests to sizzle in the midday, midsummer heat, consider getting married later in the day when it is a bit cooler. Getting married between 4-6pm will avoid the searing heat of the day.
Or how about an indoor, air-conditioned venue rather than a beach wedding?
Alternatively, think about a June or September wedding when the temperature is in the early 20s and prices are also more reasonable.
If planning your ideal Cyprus wedding is overwhelming you, Aphrodite Weddings can help. We know the island, have great relationships with local suppliers to get you the best deals, we speak Greek and we'll take the headache out of organising your wedding. Contact Helen now to discuss your special day.